Top 7 Interesting Places To Go In Hong Kong
Hong Kong is a very busy and extremely compact city-state of China. It is one of Asia's fastest growing finance and trading center, and a gateway to mainland China.
Many travelers spend one to three days here either on a stopover or business trip.
Surprisingly this distinctly Chinese city has a blend of eastern and western culture as a result of past British colonization which ended in 1997.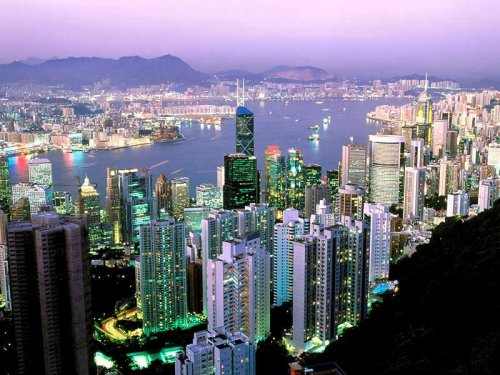 You can also experience ancient values alongside modern lifestyle.There is more capitalism and less communist ruling here as this place is considered a Special Administration Region (SAR) of China.
Once you arrive here you can see modern skyscrapers spreading all over this city-state. There is also some old world charm here such as temples and fishing villages amid urban high-rise.
Shopping is not the only reason for coming here as there are many attractions for you to enjoy including traditional markets, world-class cuisines, natural scenery, computers and all types of electronic gadgets.
Here are my top 7 interesting places to go in Hong Kong.
Victoria Peak
The Victoria Peak is the best place to take in the fabulous view of the city skyline, the territories and the South China Sea during the day and night.
The popular Peak Tram can take you to the top of the summit. You can also ride the Mid-levels escalator which moves to the top in sections.
Other things you can do here include dining, shopping and visiting museums.
Tsim Sha Tsui Waterfront
There are few attractions along the waterfront. You can enjoy the breathtaking night view and watch the symphony of Light show which starts every evening at eight for ten minutes.
Another great attraction here is the Avenue of Stars which is similar to Hollywood's 'Walk of Fame' except this location features famous Chinese movie stars and statues.
Hong Kong Museum Of History
The only way to get to know this city's past is to visit the Hong Kong Museum of History.
It is a fantastic place to trace the history and increase your understanding of the region. There are tours and documentary films to watch so it is not boring at all.
Street Markets
Street markets are a great place to find cheap souvenirs, fake designer products, fashion wears, bags and other knick knacks.
This traditional way of shopping is still very popular in this ultra-modern city. It is often very noisy and to enjoy your trip here you need to bargain like the local even if you dislike doing that. After all this is part of the fun of coming to street markets.
The Temple Street Night market in Kowloon is one of the more popular one to get to.
Most market have food stalls selling from simple noodles soup, Cantonese snacks to fancy local cuisines which is an excellent way to taste and experience the street culture.
Theme Parks
There are two theme parks, the oldest one is the Ocean Park which caters for all ages. You can find challenging and terrifying rides, wild animals such as the panda, dolphin performances or take a cable car ride out of the park overlooking the bright blue sea to the aquarium.
The other park is Disneyland in Lantau Island, it is similar to the one in Anaheim but it is still worth the trip if you have not been to the magic kingdom of Disney.
While you are here you can try to make it to the Giant Buddha in Ngong Ping as well as the theme village and Po Lin Monastery.
Aberdeen Harbor
The Jumbo fresh seafood floating restaurant in Aberdeen Harbor is definitely worth a visit. It is one of the iconic landmarks here with its unique ancient architecture.
If you venture into the floating village you can get to meet thousand of boat dwellers living permanently on the old-fashioned boat where majority fish for a living.
These boats are usually equipped with a simple kitchen and small living space for the entire family.
Victoria Harbor Cruise
Taking the public Star Ferry is the cheapest way to see the harbor. Not only that you can gain an insight into the daily life of the local as they travel between the Kowloon and the main island.
Another interesting way is to hire a Chinese Junk which is a traditional ancient fishing boat for a relaxing cruise up and down the waterfront or to the outlying islands.
And for those whose main journey here is to shop, there are major shopping area in the district of Tsim Sha Tsui, along the busy Nathan Road, Mong Kok, the Central District and Causeway Bay.
If you want to get the best price just asks someone who lives locally or shop at the street markets as mention earlier.
Many tourists also take a day trip to Macau which is renowned for its Las Vegas-style casinos. It is just one hour ferry ride and you can get back before mid-night.
If you are planning a trip to Hong Kong, you should check out my full list of places of interest in Hong Kong, hotel rates and other travel informations on my site.
To search and compare hotel rates, please use my complementary comparison tool at --> www.clixaholiday.com
comments powered by

Disqus